July 1, 2012
Late last night, my Ducati club buddy Ramiro sent me a couple of text messages asking if I wanted to meet him, Mike, and Erin, for an early morning meet and ride.
I was planning to go anyway and leaped at the opportunity for some company.
My close friend Eric was here until very late and as soon as he left I got right into bed and quickly fell asleep in anticipation of today's ride.
I got up with the sun and filled the bird feeders as my coffee maker brewed some freshly ground beans. Next I went to the garage to prepare Anatra for the event.
Freshly showered and wide awake, I put on my AlpineStars mesh gear, Dainese boots, and Arai helmet, fired Anatra up and headed out to meet my friends.
To my dismay, I didn't know that Route 3 was being repaved and I had to carefully negotiate my way on the torn up grooved pavement until I crossed Route 99. With a twist of my wrist, Anatra growled and sprang to life as I sprinted to my destination.
Ramiro and Mike were waiting for me in the Glastonbury parking lot where a lot of Ferrari and Ducati owners meet Sunday mornings. Erin couldn't make it but we all walked around and looked at cars and bikes for a while. Anatra sat proudly showing off her new pearl yellow paint job and received a lot of attention.
Almost on queue, everyone finalized their plans and the Ferrari and Lotus cars left in one direction while the Ducatis went their way.
My group's destination was Route 151 along the Connecticut River. It's a spirited road with lots of twisties and some great scenery.
Somehow, along the way, a large bug found its way into my helmet. Fortunately for the both of us it was not of the stinging variety and wanted out of my helmet as much as I wanted it out. A long straight gave me the opportunity to pop open my visor and set the stow-away free to its new home.
Soon after,we pulled into the Goodspeed Opera House parking lot to regroup. After a brief discussion we decided to stop at the nearby Dunkin Donuts for cool drinks.
We pulled in and I immediately stuck up a conversation with a nice guy with a full dress Harley. I asked him if he wanted to join us but he had to go. Still, I enjoyed the brief camaraderie and connection with a "fellow biker" as we wished each other well and for safe voyages today.
I went in and had a vanilla bean Coolatta which was great but gave me two brain freezes as I sipped it. Ramiro, Mike, and I relaxed and chatted then planned our return and "departure points".
Saddled up again Mike led us on a really spirited run back along 151 to Route 66. Mike is a serious racer and I watched and learned as I rode in rear of the formation, grinning from ear-to-ear as I flicked Anatra onto Mike's entry and exit points on the curves.
Finally, we all turned onto Route 9 (highway), cracked open our throttles and screamed along until I flashed my high beams as I broke formation to take the exit for my town.
Soon after I received text messages confirming that we all had a blast and lets do this again soon.
Next weekend we're trying to plan a "Meet in the Middle" to Troy NY to hook up with the NY State members of our little club for riding and BBQ. I can hardly wait!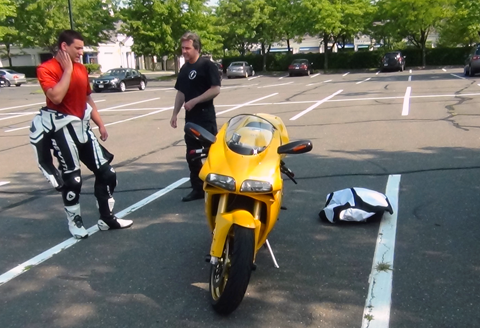 Mike and I Discussing What Route to Take Before Heading Out