After so many rainy days we finally had a gorgeous day here. So last night I finalized plans for today's ride. Ramiro (Rams), Mike, and Erin couldn't make it but my buddy Steve was up for a ride.
He was at my house mid morning and we took a scenic route south along the Connecticut river to our destination in Old Saybrook, The Monkey Farm bar.
We were there early and I was surprised at some of the regulars that filed in and bellied up the bar at 11AM. Steve and I sat at a table on the patio and the staff made a fresh pot of coffee for us.
Lunchtime arrived and I already knew what I wanted: a hot lobster roll. Steve ordered up a huge cheeseburger. The Monkey Farm prides itself on cooking to order so it was a bit of a wait but well worth it. Lobster rolls are a summertime tradition for me and I savored every bite.
After lunch I bought my very first tie-dye tee shirt (I'm such a hippie) with a cute Monkey Farm logo on it, loaded it under Anatra's tail (my Ducati) and we were off again.
We rode the loop around the beaches crossing over the causeway and hugging the shoreline before turning north for home.
My new Arai helmet flows a lot of air and it felt like I had air conditioning om my head. As always my summertime mesh gear felt great too.
Once at my house, I adjusted the new chain on Steve's bike and secured the clips with safety wire. I recently bought a nice set of safety wire pliers and it's my favorite new toy. I just am looking for any opportunity to add safety wire to bike parts.
Steve left a little while ago as he didn't want his wife to worry about him. He asked if he could bring her along next time and of course my attitude is "the more the merrier." Hopefully next time Rams, Mike & Erin, and the rest of our group can make it. They really missed out on a great ride today!
Our bikes outside The Monkey Farm (Anatra's the yellow one)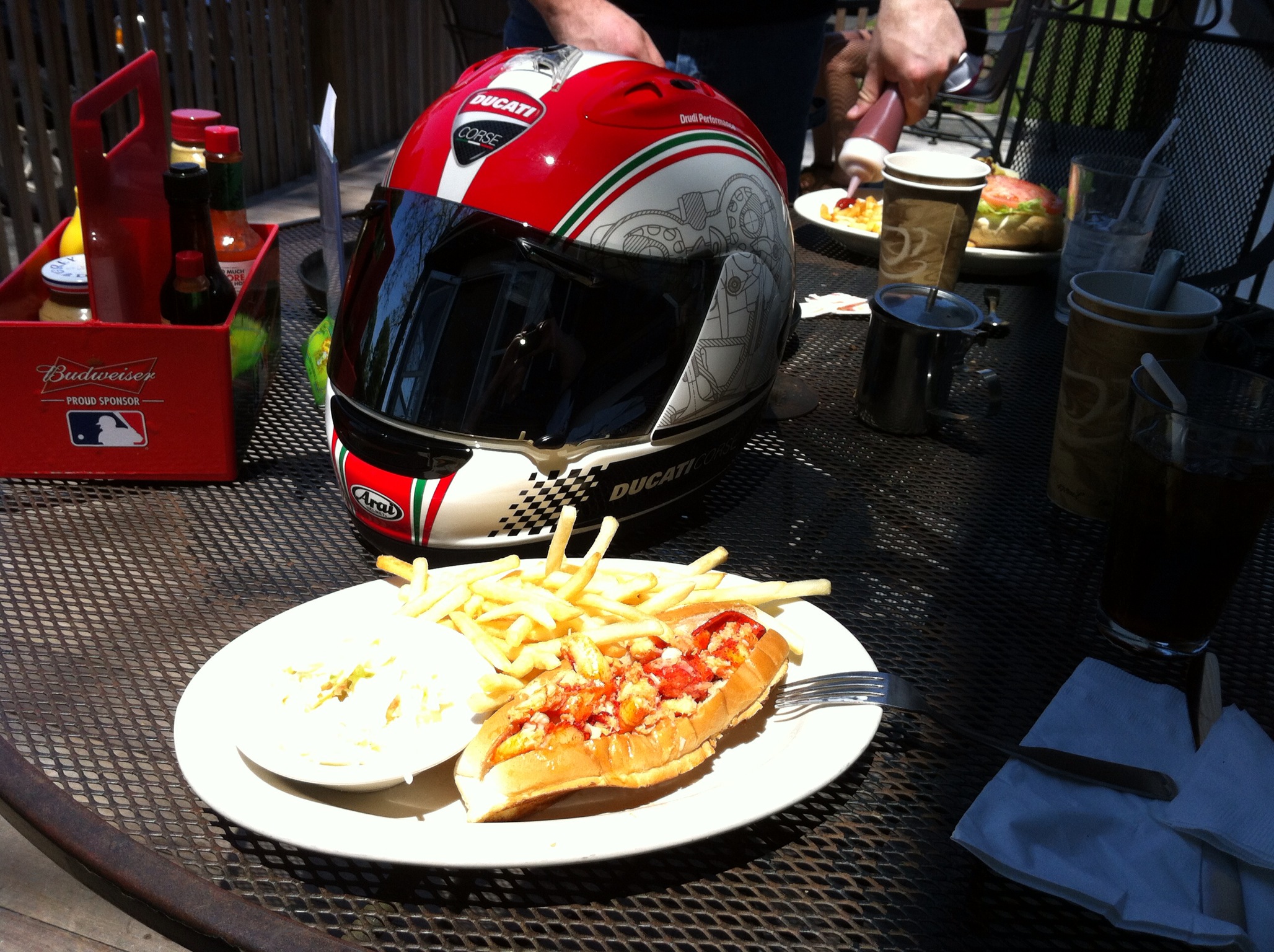 My First Lobster Roll of the Season... Yum!