My Ducati should be back from the shop soon and I'll be back to riding with my friends.
I wrote the following last October/November (2011) but forgot to post it.
---
The days growing shorter signal that my motorcycle riding season will soon end. Therefore each day and ride becomes more significant and I am much less likely to pass up an opportunity to ride.
I have made many new friends since I bought my brother-in-law's Ducati and rekindling my passion for riding. One of these new friends is a man that lives in my town that goes by the Ducati forum user name "MrGompers".
I get together with my new fiends for group rides that follow the same format: pick a great scenic route with an interesting place to eat as the midway point.
A couple of weeks ago MrGompers saw an episode of "Diners, Drive-Ins, and Dives" hosted by Guy Fieri on the Food Network, featuring a "local" hamburger place called "Corey's Catsup & Mustard" located in Manchester CT:
Corey's Catsup & Mustard
He decided he wanted to go there and called me to see if I wanted to ride with him. Of course I leaped at the opportunity.
The Sunday we went was an absolutely perfect fall day. We took a long winding indirect route to get there and stopped on top of an old orchard in Glastonbury that now has mansions overlooking Hartford and surrounding area before continuing: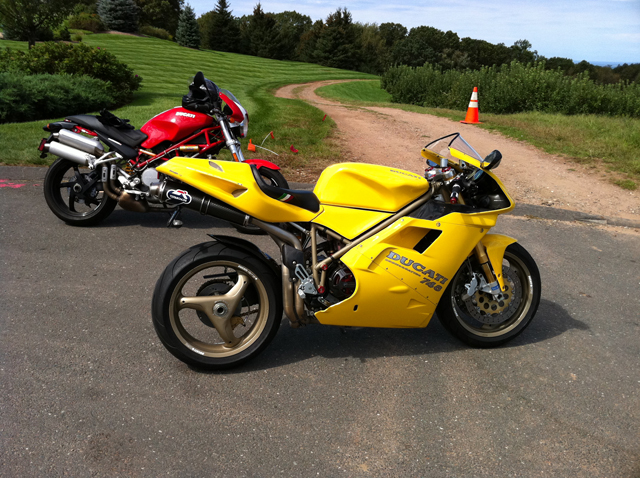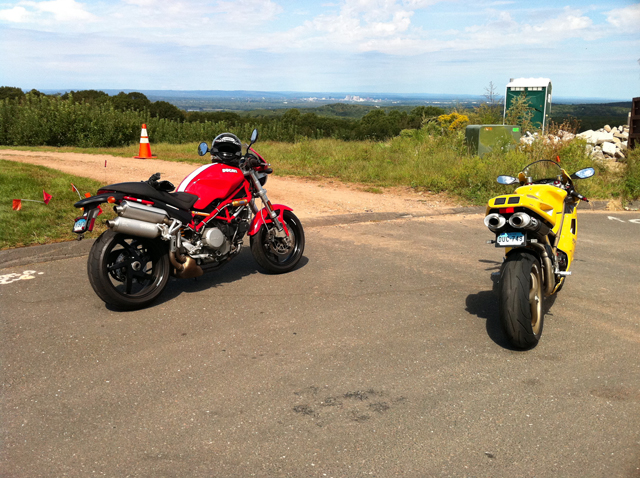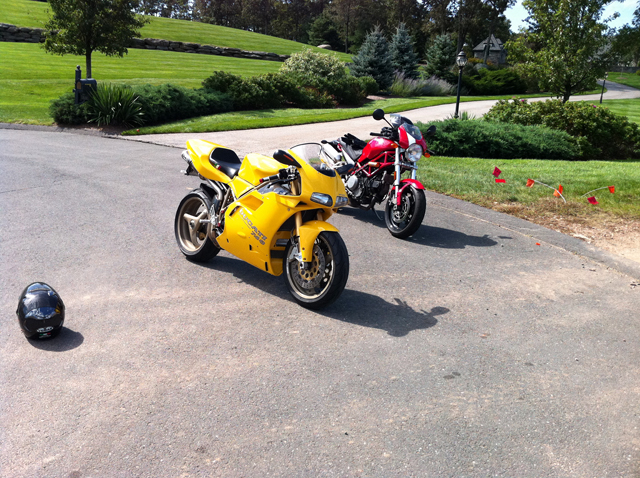 Once parked in Manchester we removed our helmets and gloves then went into Corey's and sat down. I had a "Traditional" burger with Swiss and a side of fries while MrGompers had the "Auntie Laurie's" burger and onion rings. I have to say that this was the best burger I've ever had, not that I am a big carnivore but still…
We were both very impressed and our only regret was that we couldn't finish the fries or rings. These burgers are huge and ground fresh each day. Even the coleslaw was fresh and made with a vinaigrette rather than mayonnaise.
We sort of waddled out of Corey's and I felt like an anaconda that just ate a large goat and in need of a month long nap. As we warmed up our bikes and put on our gear a young boy came up to me and asked if I could do a wheelie. Being a law abiding citizen (yea right) I told him that it was against the law to do that on a public street – not to mention that they have a satellite police station about 200 feet from where I was parked ;) I apologized to the boy for my sudden reluctance to be a hooligan then swung my leg over Anatra and off we went, meandering our way home.
Last weekend MrGompers and I returned to Corey's for more and this time I had the Auntie Laurie's and he had the "PS I luv Pastrami" burger. I ate a very light breakfast that morning but we still couldn't finish the fries and rings which upset me because they are so delicious. The sun didn't come out while we were riding so it was a bit chilly but the leaves have turned and this is one of my favorite times of year.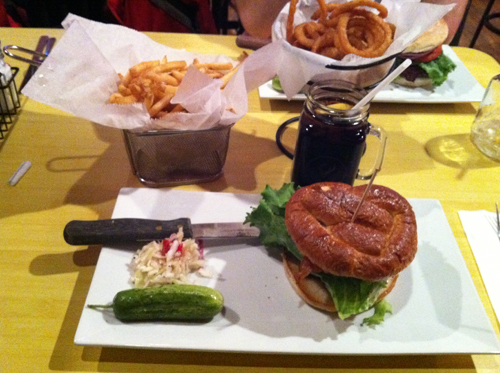 Picture of the Auntie Laurie's Burger
We finally returned to our town and came to the stop sign where we would go our separate ways to our houses. A quick nod and a thumbs-up and we happily roared away in different directions.
When I got home I settled in to watch the MotoGP race that I set the DVR to record at 4AM from Sepang Malyasia. Two laps into the race disaster struck as a horrific accident unfolded that would take the life of a young 24 year old Italian rider named Marco Simoncelli. I stared at the screen in disbelief. I never met him but many of the people I ride with have. I am still trying to comprehend and process that Marco is gone. What I can understand is that life is precious and oh so fragile. It can end suddenly when we least expect it.
This weekend another of our Ducati buddies, "Ramscab", and his wife are hosting an Oktoberfest party that MrGompers, his wife, and I will attend along with many of our forum and riding friends. At some point we will bow our heads in a moment of silence for Marco then raise a toast to celebrate his life. We will exchange stories, routes, and great places to eat as we sample the German beers and food. We will laugh, plan things, and exchange contact information with those we haven't met before.
Hopefully Sunday will bring fair weather so we can all go riding. It doesn't matter where we go or where we stop to eat. All I hope is that it is warm enough so that the smell of autumn permeates my helmet with the sun shining through nature's colorful good bye to the riding season, warming my leather jacket as I take my place in formation with my friends.